By _YBF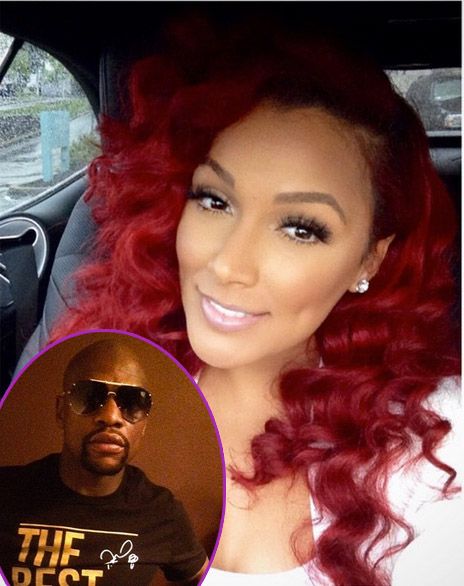 As Shantel Jackson continues her lawsuit against her ex-fiancé Floyd Mayweather, text message sent from the boxing champ blackmailing her to expose "nasty videos" of her have surfaced. He also proposed to Ms. Jackson…via text. We can't make this up. Deets inside…
You may recall undefeated boxing champ Floyd Mayweather Jr. blasting his ex-fiancée Shantel Jackson on social media for aborting their twins around this time last year. It was so messy.
The whole ordeal was quite shocking and embarrassing for Shantel. So, instead of going back-and-forth with him on social media, she filed a lawsuit in Sept. 2014 against the boxing champ for assault, battery, defamation, invasion of privacy, intentional infliction of emotional distress, harassment and more. Whew.
Now, new court documents have surfaced which paint an interesting picture of what went down right before he put all of their business on front street. Back in April 2014, Floyd fired off a few text messages to Shantel threatening to expose her if she didn't take down the picture of her and Nelly on her Instagram. In the legal docs, Shantel said, "[Floyd] threatened that if I didn't take down the photo of me and Nelly, he would post 'naked photos' of me on social media."
Floyd sent her a screenshot of the pic and said, "Just tell me this didn't mean anything."
Yikes! And this wasn't the first time he threatened to put her BLAST (again).
In text messages dating back to April 2013 (obtained by TMZ Sports), Floyd threatens to release "nasty videos" of her on social media, brags about taking her from rags to riches, tells her he got her phone tapped and hired a detective to follow her.
In the texts, he allegedly writes,
"I got nasty videos too that I can put on Instagram and twitter"
"I took you from rags to riches now you back to rags bitch. that's why your out selling shit going on petty ass auditions fronting to people like your doing big sh*t."
"I had your phone traced. I hired a detective. Your not slick. If it was a dude that's all you had to say."
Oh…and there's more….
Not only was he busy issuing threats, he also proposed to Shantel…for the 2nd time…via text message! Chile…
Here's how he tried to persuade her to come back to him:
"This is what I offer to you. Let's get married move in together you can go back in forth to L.A and stay at the condo."
"I promise I will get you in 3 A list movies this year and I'm willing to go to counseling to make us work and you can get the stuff you want and I'm willing to change but I need you to have a better attitude."
Umm…did he really think she would say YES after all of his foolery? Sighs…
Shantel's screenshot game was on point and she came with receipts. Peep a few of the texts Floyd fired off to Shantel below:
The above text is possibly referencing that time Floyd posted pics on social media of empty closets where he said he took back all he luxury clothes and bags he bought for Shantel.
We noticed some of the texts were part of a GROUP chat…ummm…why? Who else needed to be in on this foolishness? And why was he issuing threats with other people in group chat? Weird. Hopefully it was an additional phone of one of theirs.
We can only see this getting worse. We'll keep you posted…if/when Floyd decides to respond.
Photos: Shantel's IG/Floyd's IG/TMZ Sports