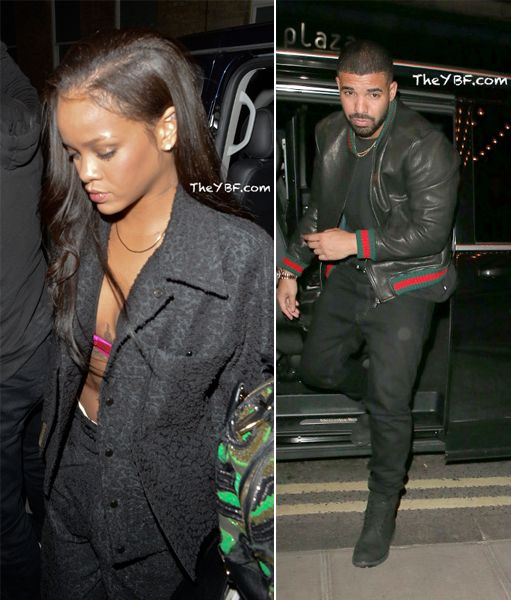 Rihanna and Drake took the "afterparty" straight to the hotel after a night out in London. Peep pics of Rih and Drizzy pulling up to the Pop singer's hotel in the wee hours of the morning inside…
It appears Rihanna was the one telling "Drake" to "come thru" last night.
The Pop princess and the Young Money artist linked up for another night out in London since Rih has a few free days in between her European ANTI World Tour dates.
A few days ago, Drizzy popped up at Nicole Scherzinger's surprise party with her and performed during the "BBHMM" singer's Manchester show and they have been joined at the hip ever since, spending most of their time together in the club.
Check out a clip of Drake and Big Sean checking out Rih's performance:
Drake, Big Sean and Popcaan at Rihanna's show yesterday. pic.twitter.com/jd2WkKKxYX
— Big Sean News (@BigSeanNews1) June 30, 2016
Well, last night they were spotted creeping back to the hotel together. The homie-lover-friends arrived at Rihanna's telly around 4AM, but you'll notice they rolled up separately. The STANCE sock designer pulled up and hopped out her ride first, then Drizzy, styling in a Gucci jacket, slid through minutes later. Mmhmm…
So fine.
Rihanna will return to the stage at Telenor Arena in Oslo, Norway tomorrow night (July 2nd).
Speaking of Drizzy, another rapper is coming at his neck on wax.
Rapper Joe Budden unleashed a new 6-minute long diss track titled "Making A Murderer" aimed at both the VIEWS rapper and his rap nemesis Meek Mill.
Yes, Joe is still rapping.
Apparently, Joey is feeling some type of way after Drizzy addressed Joe's dislike for his new album on his track "4PM in Calabasas," so he's responding on wax. Joey pretty much takes it there with Drake where he raps about how star struck Drake was when they met, calling Drake his son and playing on the ghostwriting accusations.
Joey also says "f*ck Meek" and takes a jab at Jay Z.
Take a listen below:
Will Drizzy respond?
Photos: Pacific Coast News/Splash