By Natasha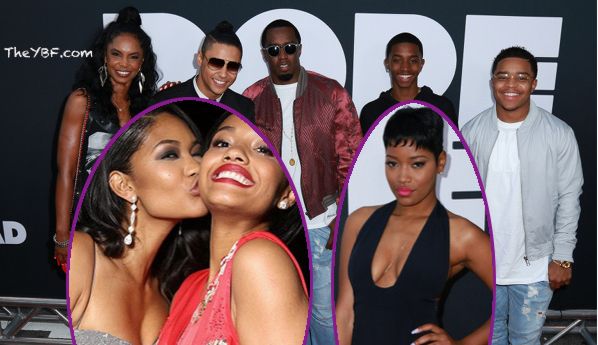 The DOPE cast hit the red carpet in Hollywood for their big west coast movie premiere last night. Check out KeKe Palmer, Chanel Iman, A$AP Rocky, Pharrell, Kiersey Clemons, Tyga & Kylie, Quincy Brown, Diddy, Kim Porter and plenty more…
The stars and Executive Producer of the freshest flick of the summer, Dope, came out in droves for last night's premiere at the Los Angeles Film Festival. The YBF stars put on their dopest looks and soaked up the flashing lights before the movie premieres nationwide June 19th.
It pays to have your pops Executive Produce a project. Quincy Brown, who has a comical role in the film, posed it up with EP Diddy, his mom Kim Porter and brothers Justin and Christian Combs. And yes, he's actually got some pretty good acting chops.
Yes, Keke! KeKe Palmer sexed up the carpet in this black low-cut Giulietta jumper, topped off with a Corto Moltedo clutch and Jason of Beverly Hills jewels.
Chick took her short coif for a spin last night having a blast with the stars of the movie:
Kiersey Clemons grabbed a handful, while star of the movie Shameik Moore and Michael B. Jordan grabbed a dance:
A$AP Rocky and his ex-girlfriend Chanel Iman seemed to be getting along fine. Both posed it up for some fun pics with friends. Executive Producer Pharrell got in on the fun and so did Kiersey:
Tyga, who's also in the film flexing his trap skills, ht the carpet dolo after walking in with rumored girlfriend Kylie Jenner:
Also at the premiere:
Reality star Gloria Govan rocked a tight blue cut out dress while supporting the film.
It was a family affair as Damien Wayans posed it up with his uncle Marlon Wayans.
Fun times indeed. The NYC premiere goes down opening night of ABFF (American Black Film Festival) this Thursday. Get your tix HERE and enter code YBF2015 at checkout for a discount!
Photos: Getty/Splash