By _YBF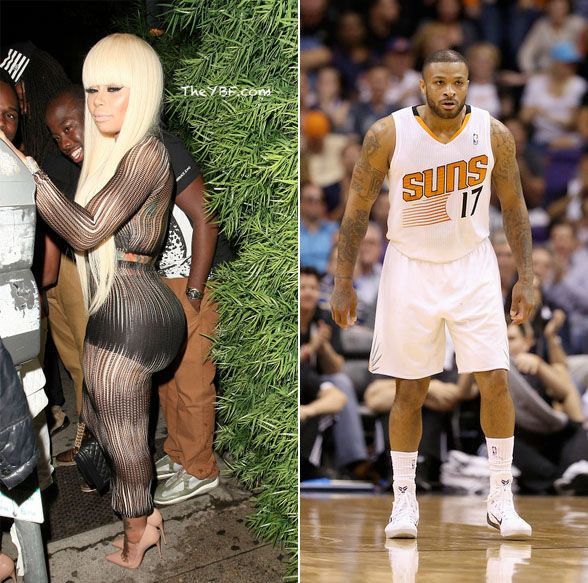 Has Blac Chyna found her a new man? Possibly. And it appears to be Phoenix Suns baller P.J. Tucker. The kicker? He may possibly be legally MARRIED. Sighs…
Deets inside….
Looks like Blac Chyna may be spending time with Phoenix Suns forward P.J. Tucker.
Earlier this week, Tyga's ex-fiancée and mother of his son took to her Instagram to post a video of her flossing her blinged out Audemars Piguet watch (you know, the same one she was flossing last week) while out partying in the club. Then…another watch pops up (on a man's arm) in the clip and it appears the person has his arms around Chyna as she is dancing, which she captioned, "Yes Zaddyyy …. All day n*gga !". Check it:
Yes Zaddyyy …. All day nigga !
A video posted by www.Lashedbar.co (@blacchyna) on Apr 2, 2015 at 3:52am PDT
We hear the Chyna was partying it up at The infusion Lounge in San Francisco.
Following the video clip, Chyna then posted up the pic below of herself in a oversized t-shirt (likely a man's) and she captioned it, "6'6":
6'6
A photo posted by www.Lashedbar.co (@blacchyna) on Apr 2, 2015 at 3:52am PDT
Rumor has it, the man in the video clip atop is allegedly NBA baller P.J. Tucker, based off the tattoos you see on his arm in the video clip. You'll also notice she captioned her IG pic 6'6. Well guess who's 6'6? P.J.!:
Also, Chyna has been spotted courtside at one of P.J.'s NBA games. She and her friend Nikki hit up a game in March at the Barclays Center when the Suns went head-to-head against the Brooklyn Nets:
Now…here's where it gets a bit messy. Apparently, P.J. is still allegedly legally married. In August 2014, the NBA baller was sentenced to three days in jail and 11 days of home detention after pleading guilty to a super extreme DUI charge in Scottsdale.
Following his sentencing, P.J. issued a statement where he apologized to his WIFE named Tracey. He said:
"I would like to express my gratitude to the people of Phoenix for their love and support during my time as a Phoenix Sun. Thank you to the Phoenix Suns organization for supporting me throughout this difficult time. And, of course my wife Tracey, family and friends, who just keep loving me. I cannot express how much I appreciate and value the many blessings that I have been given – love and abundance that I never imagined. I am truly blessed. I am so grateful that no one was hurt as a result of my choice to drive impaired.
It's definitely possible he and his wife could have separated since August 2014, but it's likely safe to assume no divorce has been finalized…sooo…yea he's probably still legally married. Word has it, he has a son as well.
We decided to do a little digging on his Instagram page…but guess what? He deleted it!:
Hmmm…wonder why he decided to delete his social media. Was he feeling the pressure?
If they are dating, it's definitely an upgrade for Chyna. P.J. signed a 3 year deal for $16.5 million with the Suns, including $12.7 million guaranteed. He will make an annual average salary of $5.5 million. Sheesh!
Do we believe it or nah?
Photos: Splash/Getty/Chyna's IG/@chynaalaurenlove/@wallder1