By _YBF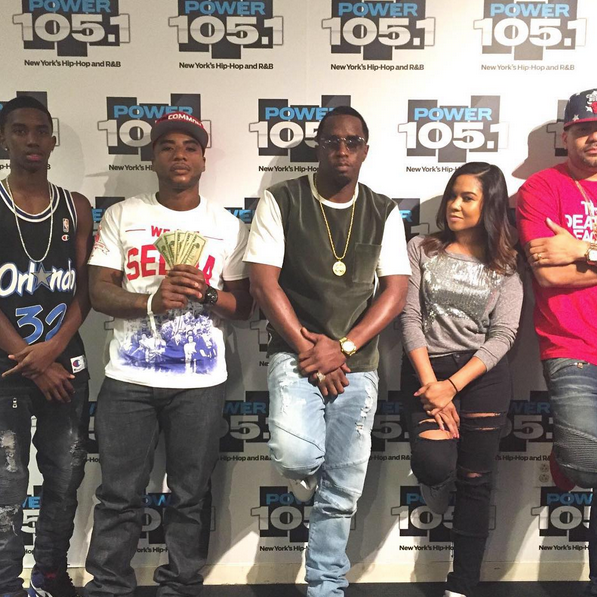 Diddy stopped by "The Breakfast Club" for a candid interview where he sets the record straight on if he really slapped Drake, whether he's suing BET & "Empire" and he his relationship and "love contract" with Cassie. Get it all inside….
High off celebrating 20 years in the rap game, Diddy stopped by Power 105's "The Breakfast Club" to promote his new single "Finna Get Loose" featuring Pharrell Williams.
Diddy, who's currently going by Puff Daddy, brought his son Christian Combs along with him (and he's launching his own rap career too as King Combs). Puff and the Bad Boy is family is gearing up for a reunion tour of sorts, but no details on dates and cities were revealed.
As a gift, 50 Cent sent up a case of EFFEN vodka for Puff at the studio. Y'all know these two have been going back and forth in the "spirit wars." Diddy revealed he sent him a lifetime supply of Ciroc, so Fif was returning the gesture…sort of. These two…
During his chat with the radio hosts, Puff dished on the rumors that he SLAPPED Drake during an altercation ("I did not put hands on Drake"), he addresses the Drake vs. Meek Mill rap beef ("At the end of the day, it's all about the lyrics"), the situation with his son's football strengthing coach which landed him in jail ("It was just a miscommunication"), falling on stage at the BET Awards ("I had to get back up.") and his "love contract" with his girlfriend Cassie.
Below are the highlights:
On if he really slapped Drake outside the club in Miami:
"I did not put hands on Drake. And I do not want any problems with Drake. Drake is…right now…he's putting in his work right now. Drake is my friend. 0 to 100 was initially my record. Then, somehow there was a misunderstanding because we were working with the same producers.
Angela: You sent Drake the song for him to get on it?
"No, no, no, for him to ghostwrite for me. As an artist, your allegiance is to make the best record you can. I'm not an emcee, I'm not a rapper. I'm a ringmaster. I'm an entertainer."
On Drake vs. Meek Mill rap battle:
"Drake is honestly my favorite rapper as far as song writing and albums. Meek [Mill] is my boy. At the end of the day, it's all about the lyrics."
On Meek Mill using his voice in his diss-record "Wanna Know":
"That was something from Instagram. I didn't even know [he used it]. He didn't ask me. He probably felt he had permission since we rock together. But, I'm not in the middle of that. Drake please, don't do no 'back-to-back-to-back.' [laughs]"
On the aftermath of his scuffle with his son Justin Combs' football strengthening coach:
"Yes [he's back to playing football]. No, as I know right now I'm not allowed [at practices]. To be honest, I don't even know if I'm allowed at practice. I went there to communicate, but I can't speak on what else that happened. It was just a miscommunication."
On falling into a hole while performing at the BET Awards:
"I fell in the hole man. It was a real hole. It's a trap door, I had just walked over the trap door. After about 2 seconds, I turned around and it was open. As I'm falling in the hole, its actually time is slowed down dramatically. I'm like 'Yo, my name is Puff Daddy. I'm one of the coolest cats in the world. It's 35 million people watching. You're about to be the guy who fell in the hole. I'm super black man. I put my cape on, I push myself up and I said 'You have to land back on beat.' I was scared, I've never been this afraid in my life. I had to get back up."
On suing BET:
"Nah, I'm not suing them."
On suing Empire:
"Nah, nah, that was a rumor. I think people are allowed to take creative licesne if you're in the public eye. It's one of my favorite shows.
On not allowing his son Quincy to be on "Empire":
"That was Qunicy's decision [not to be on the show]."
On his love contract when he's in a relationship:
"I don't want to promise her nothing I can't deliver. If I'm in a relationship with you, 25% of the time [you'll be unhappy], then the other 75% I'm going to make you the happiest woman in the whole wide world. You know how I am, this is what it is 25%/75%…which deal would you choose? Marriage is about honesty. This is a different type of marriage. Let's be honest. I'm bringing 25% of some bullsh*t."
On Cassie:
"My personal life I like to keep it private but as you become closer, you can't be watching every camera. Just sometimes, you get tired of ducking and hiding from the cameras."
Check out the full interview below:
Photos: Charlamagne's IG