By _YBF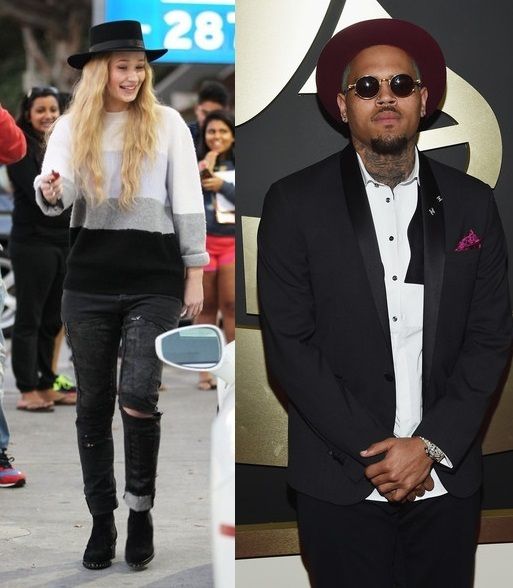 In our "Debbie Downer" report, Iggy Azalea's personal issues with management might derail her tour plans while Chris Brown posted a dismissive rant about his fanbase. More inside…
Somewhere in LA, Iggy Azalea is crying into one of her Papa John's pizzas. Maybe the Twitter trolls have gotten the best of her. Maybe she took offense to this weekend's SNL skit (see below). Whatever it is….it's affecting her work. "The Great Escape" tour might turn into "The Staycation."
Today, we received a politically correct press release from Iggy's team explaining that the tour had been "rescheduled" to accommodate her creative team's plans. Oh.
So now, The Great Escape Tour will begin Friday, September 18 in San Diego, CA. Unfortunately Baltimore, Las Vegas and Sacramento shows will not be rescheduled. And opening acts Nick Jonas and Tinashé will be replaced. So there's the spin. But what really happened?
According to TheWrap, Iggy has become increasingly unresponsive to her management and refuses to engage in promotion, social media, or press opportunities — you know, the busness she signed up for. And a few weeks ago, she left Twitter and Instagram and turned her accounts over to her team. Where is TI when you need him?
Peep the rescheduled dates:
In case you missed it….SNL put their own spin on the Iggy vs. Azealia Banks feud HERE.
In other sad news….
Fans just won't let Chris Brown raise 9-month old Royalty in peace. Social media has been mean to ya boy Breezy, about MANY things. And he's tired of it.
In an Instagram rant (that he's already deleted), Chris attacked his fanbase, saying they'll drown in their own pools of negativity. Please stop with the trolling before you push this man back over the edge!
The f*ckery continues….
dj being provocant.. but breezy tho he didnt give a phuck aftaaaa #chrisbrown #supperclub #afterparty
A video posted by KirstenKay (@ayeekirstenkay) on Mar 9, 2015 at 10:44am PDT
Chris had a party — HIS own party — at The Supper Club earlier this week. The DJ played a Drake song that's become known as a "Chris Brown" diss record. Check out how he handled it above.
There is one bright spot in all of this, Chris' tour with Trey Songz and Tyga is going full speed ahead.
Photos via GettyKirstenKay