By _YBF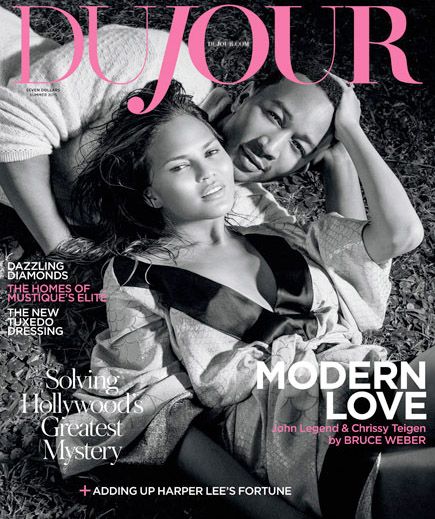 John Legend and his wife Chrissy Teigen get candid about their unconventional relationship in DuJour magazine's newest issue. Get the deets and see their cutesy photoshoot spread inside….
Oscar winner John Legend and his model wife Chrissy Teigen get all lovey dovey for DuJour magazine's latest issue. In the mag, the couple dishes on their ordinary, but no so ordinary love. John and Chrissy seem like your typical couple, but they definitely carve their own lane when it comes to being a couple in the limelight.
Most Hollywood couples try to keep their personal life very private. But, that doesn't seem to be the case with John and Chrissy. The two share a lot of their relationship with their fans via social media, so it's sort of like getting an inside look at their home life straight from the source. In the issue, John talks about why they decided to share their love with the world and not keep it under wraps. He said,
"I never understood the purpose of being secretive and coy and trying to disguise the fact that you're together. It's odd to shut off a major section of your life and say, 'Well, that's off-limits.'"
He adds, "We don't discuss everything in public, but I feel like it's OK to show people that we love each other."
For their spread, the Stephens pose it up for a few sexy shots and Chrissy even strips down to her birthday suit as she rolls arounds in the ocean at the beach. Check their coupledom spread below:
Well alright. Peep the rest of their shots and their full interview here.
So what do you all think about John and Chrissy's unconventional love? Chrissy loves being inappropriate on social media (posting shots of John getting out of the shower for example)…do you think this is becoming the new norm?
Photos: DuJour.com