By _YBF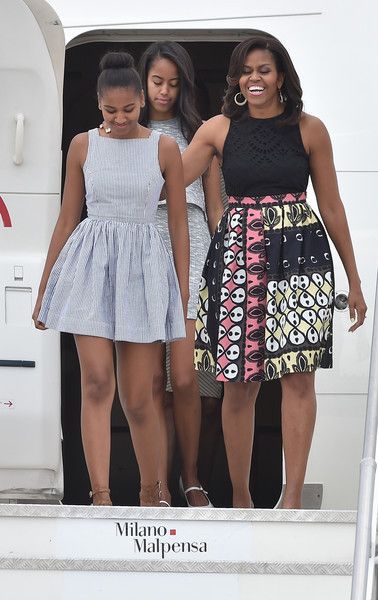 The Obama family landed in Milan today where the First Lady spread her healthy eating initiatives. And they're looking fab. More inside…
Today, the First Family (sans President Obama) was seen stepping off Air Force One in Italy with Mrs. O rcking a super fab Duro Olowu frock. Their arrival comes a day before the First Lady's keynote address the Expo 2015 World's Fair where she'll discuss food, nutrition and world hunger issues and their impact on kids.
Once the first family departed the plane, they were greeted by a line of Italian dignitaries and by President of Lombardia Region Roberto Maroni.
It's been a long week for the ladies as they spent two days in London where they visited Prince Harry at Kensington Palace and participated in Let Girls Learn, a two-day tour to promote FLOTUS' girls education initiative.
But the First Lady's Italian excursion centered around food. A few hours after her arrival, she participated in a cooking class with 7th and 8th graders from the American School in Milan. The class also featured American Chef John Besh (above) and "The Chew" star Mario Batali (below).
Afterwards, the students and First Lady all headed to the James Beard American Restaurant when the FLOTUS delivered a speach about the importance healthy eating and living and nailed a few jabs at President Obama's eating habits.
Mrs. O told the crowd, "We come up, we sit down, we have a meal. You're actually tasting it and you probably eat less because you're not just shoveling. Shoveling is probably not a good thing. We don't shovel…Well, the president shovels sometimes."
And on an interesting note, she revealed that she's committed to "family" dinner time. "We've preserved our family dinner time. No matter what the president is doing, between 6.30pm and 7pm, he stops."
The First Lady, Sasha, Malia and Mrs Obama's mom Marian Robinson also met with Italian Prime Minister Matteo Renzi and his wife and daughter. And before they left for the day, the groups paid a short visit to the church of Santa Maria delle Grazie to see Leonardo Da Vinci's Last Supper.
Now that's what we call a productive trip…
Photos via Getty