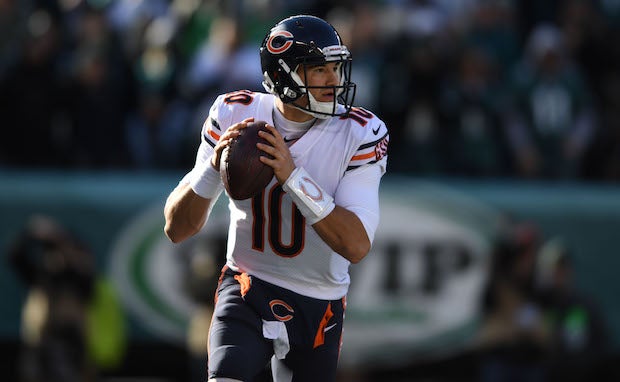 The losing streak reached four games last Sunday for the Chicago Bears in a 31-3 blowout loss to the Eagles in Philadelphia. Rookie quarterback Mitchell Trubisky had his worst game of the season and the Bears rushed for 6 total yards on 14 carries.
Overall, it was a game to forget on many levels but also represented yet another nail on the coffin of head coach John Fox but at this point, the continual addition of these proverbial nails appear to be overkill.
This week, the Bears will head back home to face the 1-10 San Francisco 49ers with a catch: Sunday will mark Jimmy Garoppolo's first start in a 49ers uniform, after the injury to rookie C.J. Beathard.
Chicago is currently three-point favorites but this appears to be a much more competitive game than it did a few weeks ago. While most outsiders will see this as a battle for the basement, this game poses a look at what could have been, if the Bears had traded for Garoppolo this off-season rather than drafting Trubisky. To add fuel to the fire, they will also see kicker Robbie Gould, along with Solomon Thomas (who was reportedly Chicago's draft target before trading up with the 49ers for Trubisky).
With that in mind, let's dive into what Bears fans can watch for in Sunday's game.
Mitchell Trubisky
The former second overall pick is coming off of his worst game as a pro but will face a much lighter task on Sunday.
Against the Eagles, Trubisky was 17-of-33 (51.5 percent) for 147 yards, 2 interceptions and a 38.3 rating. Needless to say, it was a game to forget for the rookie but one he must bounce back from against a 49ers defense that 28th in total yards, 26th against the pass and is giving up 25.8 points-per-game, which also ranks 28th in the league.
All the makings of a bounce-back game are there but maybe an even bigger concern for Trubisky is his breakdown in mechanics over the past few games, which has led to erratic accuracy and a pair of bad interceptions last week.
The Bears would be smart to get back to an offensive game plan that not only offers balance but resembles the first half product they had against the Lions in week 11.
On top of Trubisky needing a vastly improved performance on Sunday, he will be going against Garoppolo, who will be making his first NFL start after being traded the day of the NFL trade deadline.
Being a local product, Garoppolo was the center of a lot of early-season Bears rumors but ultimately had too high of a price tag to make a deal back in March. With that in mind, it sure won't stop many from unfairly comparing the two's performances on Sunday.
Pass Rush
Make no mistake, it was a poor game for almost everyone involved in Sunday's loss to the Eagles but the Bears front seven got virtually no pressure on MVP-candidate Carson Wentz, which resulted in him throwing for 227 yards and three touchdowns in just over three quarters, while being sacked just once.
Outside linebacker appeared to be a strength moving into the season but after season-ending injuries to both Willie Young and Leonard Floyd, defensive coordinator Vic Fangio and his staff are searching for answers with just Pernell McPhee and Sam Acho left from their week one roster.
Speaking of McPhee, barring an impactful five-game stretch, he'll likely become a cap casualty at some point this coming offseason, which could be incentive for the team to see what they have in younger players like recently promoted Howard Jones, who had five sacks for the Buccaneers in 2015.
Either way, Fangio is going to have to get creative for these final five games in they expect to continue to get to the quarterback.
Good news for the Bears- The 49ers have given up the 5th most sacks in the league this year at 35.
Pass Catchers
After the release of Tre McBride, the Bears are once again short on pass catchers that have any sort of rapport with Trubisky. While I'm not as surprised as some are about his release, it still comes at an awkward time, with just five games left in the regular season.
With both Dontrell Inman and Kendall Wright as the team's top receivers, expect Markus Wheaton to see extended playing time down the stretch, as they will be forced to make a decision on him and his $5.75 million cap hit in 2018, shortly after the offseason begins.
At tight end, Dion Sims returned after missing the last two games with an undisclosed illness and like most expected, it affected second-round rookie Adam Shaheen's snaps, as he received just 17, which was last among both Daniel Brown and Sims last Sunday.
Sims' best value is blocking, which is something Shaheen will need to continue to work on but at this point, the development of the rookie as a pass catcher should be high on the team's priority list moving into 2018, so we'll see if Sunday's game and lack of snaps for the rookie was simply an anomaly.
Team Morale
It was reported on Monday that there was a loud shouting match heard in the hallways of Halas Hall, next to the media room. It was also very evident on Sunday that the Bears were simply defeated both mentally and on the scoreboard early in the game and it showed as Fox's broadcast showed multiple players appearing to be sulking on the sidelines on their way to a 31-3 drubbing.
To make matters worse, a supposed Philadelphia nightclub bouncer called in to 670 The Score on Tuesday morning to report that three Bears players were spotted around 1am on Sunday morning partying it up, just hours before the team's game later that afternoon.
Only time will tell how this all plays out in the final five games of the season but something tells me that a loss to San Francisco at home on Sunday could really set in motion a downhill-effect that could makes this final month much harder to watch than it already is and I still wouldn't completely rule out Pace making a coaching change mid-season if the free-fall and reported off-the-field issues continue. All reports seem to suggest that Pace has "permission" to make a coaching change at any point within these next five weeks.
Parting Thoughts
Heading into the Bye week, I thought there was an outside chance Fox could find a way to save his job but after 3 more loses, it's just a matter of when he goes. With that in mind, who would be a good candidate to replace him next year? Only time will tell but as a tweeted out earlier in the week, Pace had a list of head coaching candidates before he hired John Fox that he will use this time around as well. A few speculative names to think about that could fit that bill: Josh McDaniels, Pete Carmichael, David Shaw, Jim Schwartz and Darrell Bevell.
On a quick review of Pace's most recent Free Agent class, it doesn't look good… At all. Mike Glennon, Dion Sims, Markus Wheaton, Marcus Cooper and Quintin Demps were all signed to multi-year deals and are expected to be serious cut-candidates after the year. Luckily none of these moves were really locked in past year-one but if the Bears expect a big turnaround in 2018, Pace has to be better starting in March.
This is your weekly reminder that the Bears have now been in last place for 33 straight (NFL) weeks. Something has got to give at some point, doesn't it?