Next up on Burger King's menu: humanely raised chickens.
The company said Tuesday it will stop purchasing chickens from farms that abuse animals, falling in line with restaurant chains that have enacted similar standards, including Chipotle and Starbucks.
The fast-food giant's owner, Restaurant Brands International, said that by 2024, all its U.S. and Canadian locations will only buy chickens from farms that follow strict standards of Global Animal Partnership, or GAP, a group that includes animal welfare organizations and corporate interests. Burger King will use third-party auditors to ensure compliance.
The conditions include allowing chickens more room, quality litter, access to light and clean living conditions. The birds must be rendered unconscious before they're slaughtered to minimize pain.
Those standards may seem basic, but they conflict with practices used by suppliers to many restaurants and food retailers. 
Mercy for Animals, a group advocating humane treatment for farm animals that has partnered with Burger King on the new standards, said chickens raised for meat, known as broilers, are "among the most abused animals on the planet." The birds are engineered to grow quickly, often causing them to cripple under their own weight and leaving them in constant leg pain, the group said in a release.
"Continual contact with wet litter causes extreme feather loss and painful sores on the chickens' bodies and feet. Even breathing can be painful, as the air around the birds is acrid with ammonia from the stench of excrement," Mercy for Animals said.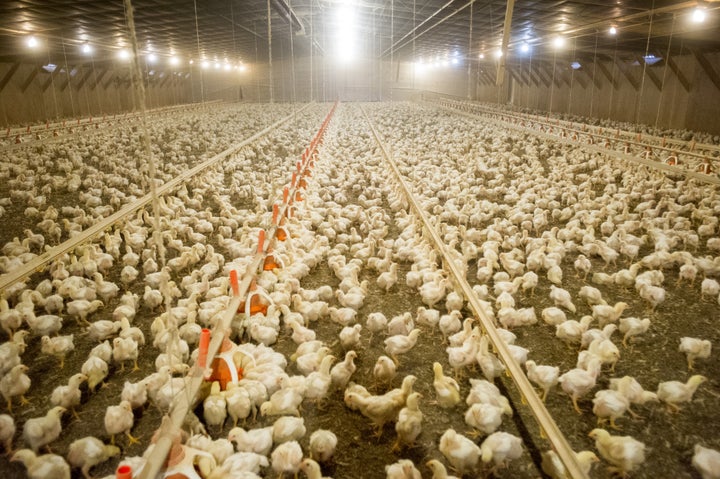 Mercy for Animals said chickens typically are fully conscious when they are slaughtered by slitting their throats while being held upside down.
Brent Cox, the group's vice president of corporate outreach, said Burger King's commitment "will reduce the suffering of millions of chickens each year."
"It should inspire other leading quick-serve restaurant chains to implement identical commonsense welfare improvements," Cox said in a statement.
Burger King competitor McDonald's has its own animal welfare guidelines for chickens, which include stunning the birds before death so they don't feel pain, according to the company's website.
Mercy for Animals specifically criticized Wendy's. An online petition accuses the burger chain of using chicken suppliers that raise birds in near-darkness and grow them to crippling weights.
Requests for comment from McDonald's, Wendy's, Burger King and GAP were not immediately returned.