Casey Affleck received a standing ovation from the majority of the audience in the Dolby Theatre when he won the Oscar for Best Actor last month. But Brie Larson, who handed Affleck the award, seemed less than thrilled. 
Larson, who kept up the tradition of the previous year's Best Actress recipient announcing the Best Actor category, briefly hugged Affleck before she moved to the side of the stage, where her hands rested at her sides for the duration of the actor's speech. She never once clapped for him. 
Larson's reaction to Affleck ― whose awards season success is viewed by many as controversial amid renewed attention surrounding the 2010 sexual harassment allegations made against the actor by two women who worked on the hoax Joaquin Phoenix documentary, "I'm Still Here," which Affleck directed ― was indeed intentional, the actress confirmed to Vanity Fair on Wednesday. 
"I think that whatever it was that I did onstage kind of spoke for itself. I've said all that I need to say about that topic," she told the magazine while at the premiere of "Kong: Skull Island."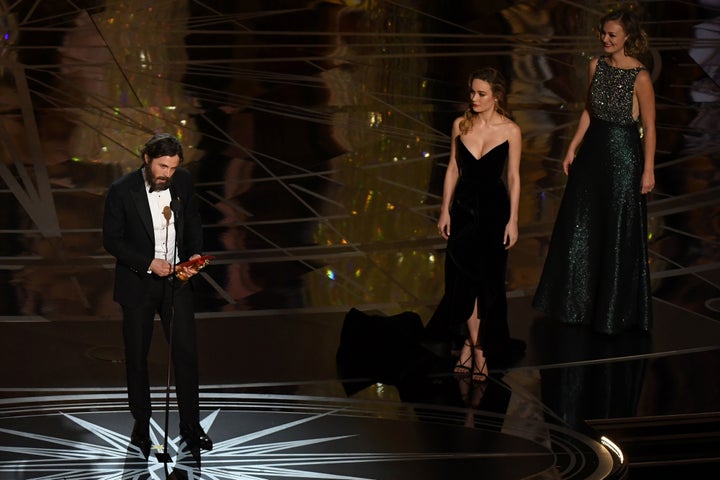 Larson won Best Actress in 2016 for portraying a survivor of sexual assault in "Room" ― a role she threw herself into by shutting the world out for a month and meeting with psychologists to better understand the trauma her character would have experienced. The role seemed to have a great impact on her, judging by the fact that the actress hugged each one of the sexual assault survivors departing the 2016 Oscar stage after appearing alongside Lady Gaga as she sang "Till It Happens To You."
Larson had been faced with with handing Affleck many trophies throughout awards season. She kept her distance when she awarded him the Golden Globe and refrained from clapping while he made a speech that seemingly addressed the allegations against him. It had also been rumored that she would advocate for sexual assault survivors at the Screen Actors Guild Awards. Fortunately for Larson, the SAG Awards were one of the few award shows that did not honor Affleck for his role in "Manchester by the Sea." Denzel Washington took home the SAG for his performance in "Fences."