By Natasha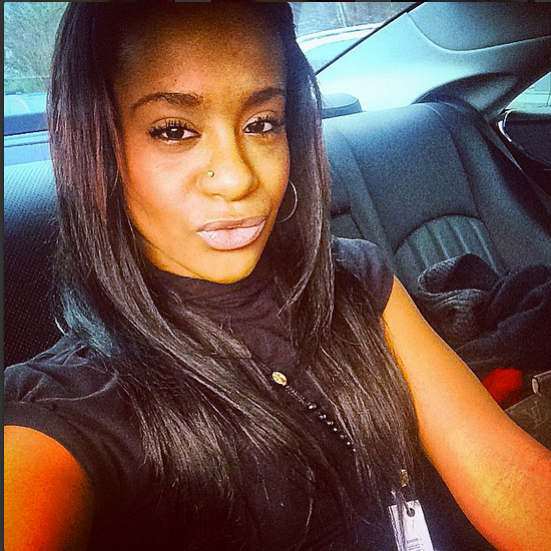 21-Year-Old Bobbi Kristina (Brown) Houston Gordon was found unresponsive in a bathtub in her Roswell, Georgia home. All details inside…
In somber breaking news, Bobbi Kristina Brown has been rushed to the hospital after being found unresponsive in a bathtub in her Georgia home (pictured today below).
Roswell police report that she was missing for several hours, and was found by her husband, Nick Gordon, and a friend. The two performed CPR on Bobbi Kristina until rescue workers arrived.
The Roswell Police Department stated an hour ago:
Police are on the scene of a rescue call at the home of Bobbi Kristina Brown, daughter of Whitney Houston. Her husband and a friend located her in a bath tub this morning and she was unresponsive. He started CPR and a police officer took over life-saving measures until an ambulance arrived. She was transported to the hospital. Please keep her and the family in your thoughts and prayers.
The Associated Press confirms that she was, in fact, taken ALIVE to the hospital. And she is currently breathing.
Her last post on social media was just 10 hours ago, and she posted the below:
YAYYYY 🙂 finally my famBAM!!! @dmannnnnnn
A photo posted by Bobbi Kristina Houston'Gordon (@realbkristinahg) on Jan 31, 2015 at 12:11am PST
The similar situation surrounding her mother's death has indeed caused even more concern. Whitney Houston was found unresponsive, and then was declared dead, after being found in the bathtub of her room at the Beverly Hilton Hotel. Her death occurred around this time as well, February 11th.
Bobbi Kris' family, especially her grandmother Cissy Houston and her aunt Pat Houston, have been vocally concerned about Bobbi's well being after Whitney's death. And there has been a family rift since Bobbi married Nick Gordon (above) without her family's approval.
Bobbi Kristina turns 22 in two months (March 4th).
We'll keep you updated on all developments.
Photos: Bobbi Kris' IG/Roswell Police Department