By _YBF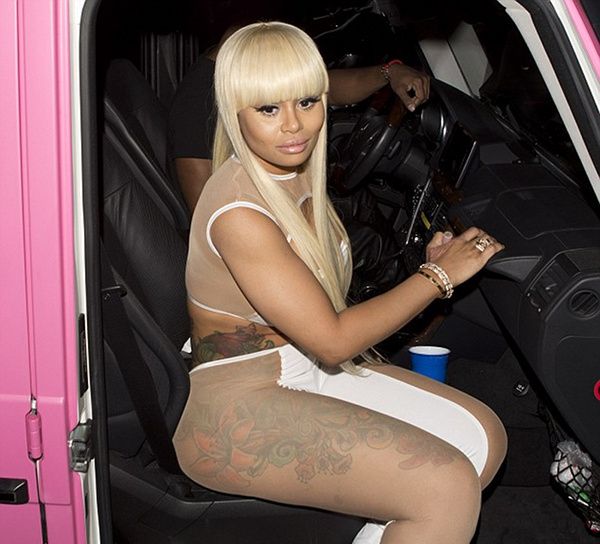 Tyga better get lawyered up quick! Because his baby mother Blac Chyna sure is…and she's gunning for full custody of their son King Cairo. Get the deets on their latest custody battle and check out Amber Rose dishing on her body parts inside….
Blac Chyna was all smiles last night as she celebrated her 27th birthday at Ace of Diamonds strip club in West Hollywood.
And she kept her "birthday suit" quite interesting as she was spotted making an exit with friends.
While last night was likely a good time, she has some days ahead that could bring on some added stress. According to TMZ sources, the former stripper is gunning for primary physical custody of her 2-year-old son with rapper Tyga. She has lawyered up with a top divorce attorney, flied legal docs last week and she's ready to go to war!
According to the report, Chyna does NOT want her son King Cairo around Tyga's alleged underaged girlfriend Kylie Jenner because she supposedly feels Kylie is too immature. On top of that, Chya also allegedly sees an issue with T-Raww dating a minor (she's 17) and feels his bad judgment can rollover to his parenting skills. Another reason she wants full primary custody is she does not want King to have to go back-and-forth between houses once he starts preschool.
So, in most cases, if she's asking for full primary custody she's also seeking some coins. And that rings true here. Chyna allegedly wants child support to cover King's housing, food, clothing, school…AND nannies. We saw this coming….
Meanwhile, Chyna's bestie Amber Rose is defending her natural parts….
Amber Rose dropped in on E!'s plastic surgery show "Good Work" where she chopped it up with host RuPaul about her lady parts.
Are her boobs and booty real? The Sister Code actress insists her boobs AND her booty are 100% real. To prove it? She lets RuPaul "squeeze the evidence" and after feeling her up, he seems to approve. While chatting with plastic surgeon Dr. Terry Dubrow about fixing a problem area under her arms, she revealed she's a natural 36H bra size and would possibly like to go bigger to fill out some extra skin. She said,
"I wear a 36H natural. This area over here (points under her arm), it's like skin, and I want to fill it out. But I don't know if I want to get an implant because my boobs are kind of really nice."
Watch Amber defend her naturalness above.
Photos: Splash