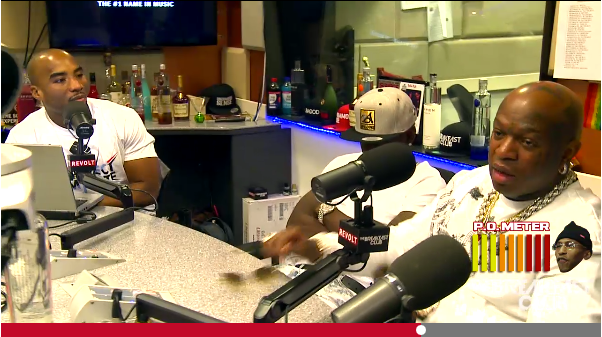 Well THAT escalated quickly. Get the full video of Birdman losing his ish and cursing the Breakfast Club clean out this morning…
You would think it's far too early to be this pissed. But not for Birdman. (It's actually unclear if this was live or pre-taped.)
The rapper/Cash Money honcho walked into Power 105's radio station today with all his goons to do an interview with The Breakfast Club. Before he could even pull out the chair good, he went OFF.
Before sitting down he rattled off, "I want to start this sh*t off straight by telling all three of ya'll to stop playing with my name! Stop playing with my f*cking name!"
When Envy and Charlamagne told him to talk about it and asked what his issue was, Birdman said, "Ni**a when my name come up, respek (respect) it. Stop playin' with my f*cking name."
Apparently, the rapper was pissed about comments Rick Ross and Trick Daddy had previously made about him on the show. When Charlamagne asked him if he rolled up on either of them like this, Birdman clapped back, "I'm rolling up on YOU n*gga."
Things escalated even further when Birdman took off his shades and said "I wanted to look you in your face like a man."
This went on for a good 60 seconds. It looked like dude wanted to do something, but of course, he didn't.
By the way, Birdman DOES have a new reality show on BET coming out called "Music Moguls." If you follow us on Snapchat (theybf), we took you inside the BET Upfronts Wednesday night where Birdman announced the show, which also co-stars Snoop, Dame Dash and Jermaine Dupri, about the business music moguls do day in and day out.
Check out the video in full below: