By _YBF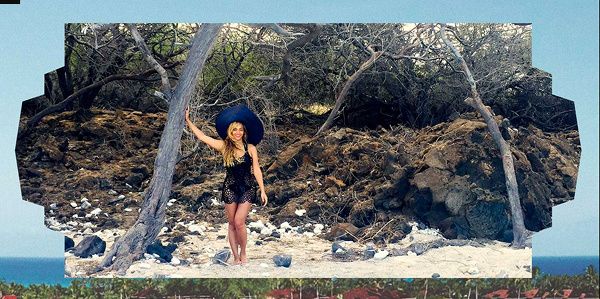 Beyonce loves snapping pics. And she's now sharing a few flicks on her recent Hawaiian getaway with her husband Jay Z to celebrate their 7th wedding anniversary. Peep the saucy pics, her hot bikinis, and check out Chris Brown's #WCW tribute to the Queen Bey inside….
Following their huge star-studded TIDAL announcement in NYC, Beyonce and Jay Z made a beeline to the airport to kick-off their island getaway as they celebrated 7 years of marital bliss (April 4th). The Carters grabbed their swimsuits and sandals before hopping on a plane to Hawaii to soak up some sun and some alone time:
We know how much Bey likes to snap pics, so she turned her camera on her hubby for a few shots. The top pic of Hov appears to be a flick taken while riding in the back of a pickup truck through Hawaii. Peep those pics HERE.
And as much as she likes to take pics, she loves to pose for them as well:
Slay.
Mrs. Carter flossed her killer bod in a knit cut-out one-piece. Werk!
Chick got her entire life as she laid out by the pool overlooking beautiful scenery from their villa:
And, in true Bey fashion, did a little exploring around the island:
And for one last body shot:
While we were drooling over Bey's sexy vacay pics, we weren't the only ones….
Chris Brown flipped through Mrs. Carters' sexy shots and one caught his eye. So much so, he used the pic in a #WCW (Woman Crush Wednesday) tribute to the "Flawless" songstress.
He posted the pic above with the caption, "Respectfully my WCW… Talented individual as well as a wonderful mother and one incredible role mode…" Quickly after posting, he deleted. Not sure why he deleted since he was only giving props, and the fact that no matter how quick you post and delete, it will ALWAYS be caught in a screenshot.
Following his post, the BeyHive swarmed into the comments of his last pic:
The BeyHive STAYS on it.
Photos: Beyonce.com/CB's IG