By _YBF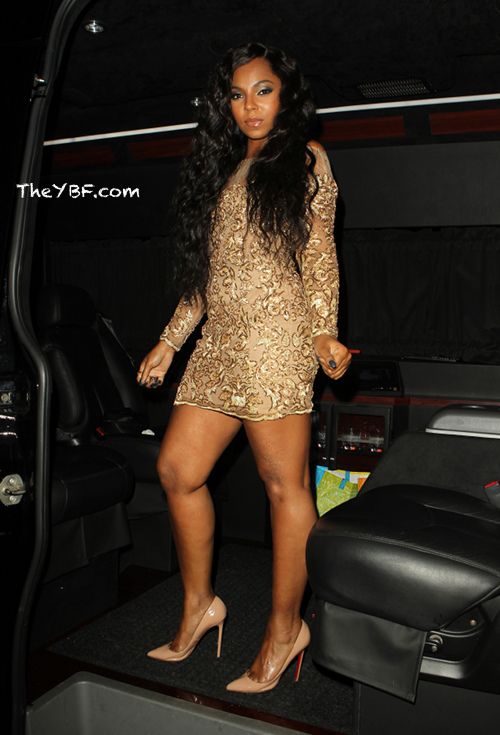 Ashanti held her own GRAMMY after party last night. And it came complete with a half naked man. Peep the party pics and check out the trailer to a new project Dame Dash and Kanye West have been working on inside…
Although she wasn't up for any GRAMMYs this year, Ashanti brought the fun as she was tapped to host her own Grammy after party at hot spot Penthouse in L.A. last night. Don't get it twisted, chick has at least one Grammy under her belt.
Joining her for the night's festivities was her momager Tina Douglas and her sister Shia.
Per usual, Shanti looked amazing in a gold long sleeve mini dress paired with nude Christian Louboutins. Getting to her hosting duties, she hopped on the mic to get the packed crowd "turned up".
And to keep things interesting, the ladies were entertained by a man….literally naked…except covering up his man parts. Oh….ok. He looks ready for #eggplantfriday. Ha!
In other news….
Remember when we told you Dame Dash and Kanye West were possibly working together on a new film project? Well, looks like things are falling into place.
The Paid In Full director and the "Only One" rapper have teamed up for what appears to be a film titled Loisaidas, where Dame is sitting in the director's chair and Ye serves as executive producer. And they just released the official trailer.
Dame hopped on Instagram to share the good news saying,
"The pre orders works now…it shut down I appreciate all the support #cutoutthemiddleman http://loisaidasthemovie.com no need to go through somebody else and I know yall direct…independence is power and I get to be creative I'm directing as well and good looking Kanye your support is appreciated #honorablepeoplesticktogether"
You'll recall, when he first made the announcement he was teaming up with Yeezy, it seemed as if he threw a subliminal shot at Jay Z, where he said something along the lines of "cutting the middle man" out. Hmph.
Anywho, their new project is available for pre-order now. No word on the official release date, but in the meantime, peep the trailer above.
Photos: WENN