By _YBF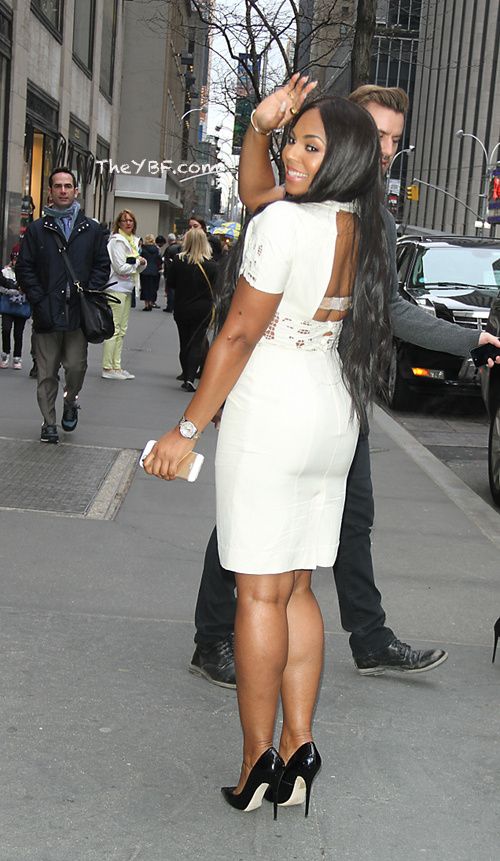 So Ashanti is back on the dating scene? It appears so. And she's dishing on her most recent first date with a new guy in her life. Get the deets and check out Tiara Thomas' new motivational track "On Me" inside…
Since calling it quits with Nelly (and all of the drama it brought it along), Ashanti has been living the single seemingly unbothered. She has been linked to Washington Redskins baller DeSean Jackson since becoming a single lady (which she denied), but now, the R&B songstress is confirming that she has officially hopped back in the dating pool. And she's spilling luke warm tea on her most recent first date.
The Braveheart singer trekked it to "The Meredith Vieira Show" today (above) to chat on a panel about the perfect first date, including "Fashion Queens" co-host Bevy Smith and Meagan Good's husband/film producer DeVon Franklin. When the 34-year-old songbird was asked about her idea of her perfect first date, she gave her ideal scenario. Then gushed on a recent "perfect" first date:
Below are the highlights:
Meredith: So Ashanti what would be your idea of the perfect first date.
Ashanti: I would definitely say a nice restaurant, it's not too loud so you can actually hear yourselves talk, the lighting, white table clothes and you can connect and it's not so serious that you feel like you have to be engaged but you kind of get to know the person you talk, you laugh,you're eating, you are having a good time, it's relaxed and it's not too stuffy. I had a fabulous first date a few months ago. It was beautiful because there was a lot of thought put into it. It was cute, it was right up here at Milos. The food was amazing, the lighting was gorgeous, the tables, the waiters were really cool.
Meredith: What was your second date? Have you had a second date?
Ashanti: Uh huh.
Oh?? Wonder who the lucky guy is.
Meagan's hubby/minister also dished on their first date…at the bar:
Bevy: Where did u take your wife Meagan on your first date?
DeVon: We went to The Sofitel.
Bevy: Oh that's a hotel kind of story.
DeVon: Time out it was a bar. There was no dinner, it was just conversation.
Meredith: Just alcohol?
DeVon: I don't drink, she drinks.
Our kind of gal! Peep the clip below:
Following her appearance….
Chick was craving something sweet, so she hit up Godiva for one chocolate covered strawberry at Rockefeller Center in NYC. Yep, just one.
And her momager Tina Douglas wasn't far behind. Tune in tomorrow to catch Ashanti on "The Meredith Vieira Show." Check your local listings for the time.
On the music front…
Tiara Thomas, the R&B singer we first met on Wale's 2013 track "Bad," has some new music straight from her upcoming 5-track EP, Up in Smoke.
The up-and-coming singer collaborated with Ryan "Ryghteous" Tedder to produce her newest release, "On Me." On the track, the songbird brushes off the haters and fakes. Check it below:
Photos: Splash/INFphoto/Tiara's IG