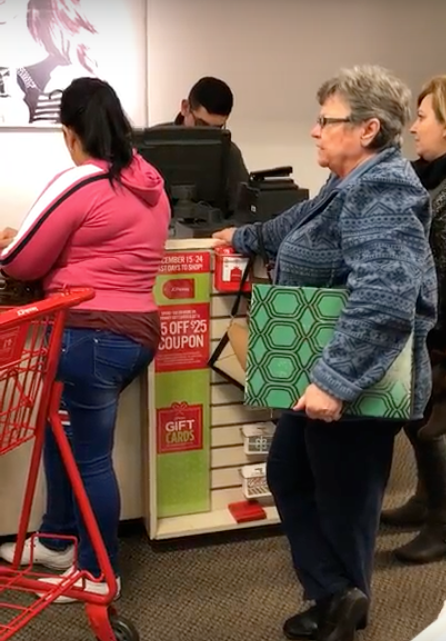 White women are getting bold with their racist rhetoric these days. Go inside to see the latest viral video of a white woman going on a racist rant against a Latina woman inside of a JCPenney's store….
Following the white woman going ape sh*t on black employees at a Michael's store, another video of a white woman hurling racist comments has surfaced. And it has gone viral.
Apparently, a woman inside the Jefferson Mall's JCPenney in Louisville, Kentucky popped off on a Latina woman who allegedly jumped the line and rushed to the register to pay for her items. The white woman yelled at the woman that she doesn't get special privileges because she's from another country. She also demanded she "speak English" since she's in America now and told her she needed to "just back to wherever the f**** you come from."
This "great" America Donald Trump keeps referring to clearly seems to only be "great" for certain groups of people. But, we knew that already.
WDIV (ClickOnDetriot) reports:
The JCPenney employee working at the register asked her to watch her language. The woman who rushed to the register apologized, but the rant continued with "You are nobodies. Just because you come from another country, it make you no body. You are no body."
After saying that she thought everybody there felt the same way that she did, she continued her verbal attack. It lasted about one minute and 22 seconds.
"You are probably on welfare. We probably — the taxpayers probably — paid for all that stuff … Speak English, you are in America. If you don't know it, learn it."
Renee Buckner recorded the offensive behavior and shared it on Facebook under the hash tags "Exposing The Racism" and "Pray for America." The video had 6.2 million views by mid-day Wednesday.
Check out the gross video clip below:
SMH!
Jefferson Mall took to their Facebook account asking for help from people in the community to identify the racist woman to permanently ban her from the mall:
Welcome to Trump's "Great" America!