By Natasha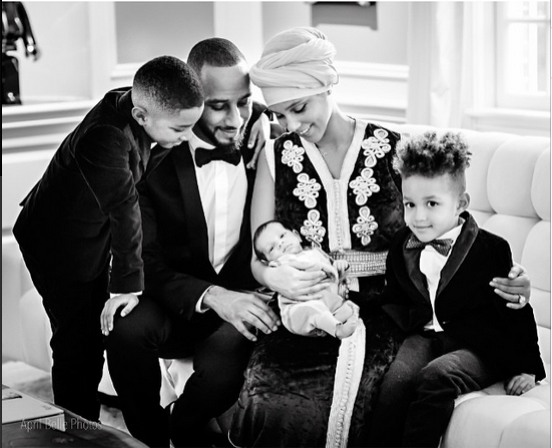 For his 2-month birthday, baby Genesis Dean just made his Instagram debut today. Check out the very first pics of Alicia Keys' & Swizz Beats' newest son inside, plus details on Lupita's lost Oscar dress that was just found…
How adorable! The Deans did a family photoshoot recently, and baby Genesis was front and center. He was born two months ago today, so it's only right his famous mom and dad show off the bundle of joy to the world.
In a shoot where the Dean boys (minus the oldest Nasir in the pics that have been shared so far) put on their suits and fancy shoes, the world finally gets to see cutie Genesis Dean.
Both Alicia and Swizz posted the pics and look so in love with their newest little one. Sweet!
In other news, Lupita's missing Oscar dress has been found!
We told you about the thief who apparently broke into Lupita's hotel room at The London West Hollywood and heisted the $150,000 pearl covered Calvin Klein gown. After authorities reviewed surveillance footage to no avail, the thief called up a website and told them where the dress (which they claimed was full of fake pearls) could be found. It was then returned to the scene of the crime!
TMZ reports:
A guy called us at around 2:30 PM Friday and said he had taken the dress from Lupita's hotel room after he noticed the door was ajar. He said he and others took 2 pearls off of the dress and took them to the garment district in downtown L.A. … where they were told they weren't real.
The thief says he decided to take the dress back to the London in a garment bag that was inside a trash bag that he deposited in a 2nd floor bathroom adjacent to a fitness center.
What in the world?! Even with fake pearls, the complete dress itself–not the individual pearls–is what makes the dress a high-worth item. It's a custom creation that will likely become a priceless one. So any thief thinking they could get a quick come up with a couple pearls just got egg on their face.
Crisis averted.
EXTRAS:
1. Fashion drama! Kelly Osbourne EXITS "Fashion Police" on the heels of the Guiliana Rancic vs. Zendaya drama! STORY
Photos: Calvin Klein's IG, Swizz Beatz's IG