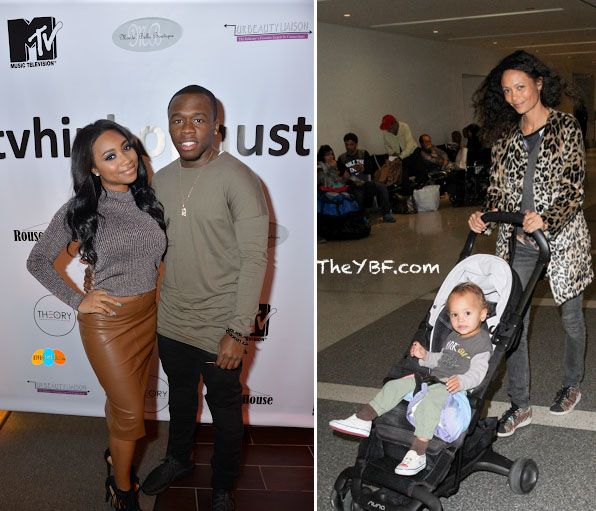 50 Cent's son Marquise Jackson has a girlfriend by the name of Tyler Royale, who's gearing up to appear on a new MTV docu-series. Get the deets and peep pics of Thandie Newton and her son Booker trekking through LAX inside….
While his relationship with his pops is still strained, nowadays, he has a chick by his side to confide in.
18-year-old Marquise Jackson, son of rapper 50 Cent, and his girlfriend/singer Tyler Royale hit the carpet together for a viewing party of MTV's "True Life Presents: Hip Hop Hustlers" in Atlanta last night. His girlfriend hosted the event and she also appeared on the episode.
Well aren't they cute.
The event was complete with food, drinks and music for the young ATL "hustlers" ending with a performance by Tyler Royale, who is a GA native.
And guess what? Chick can blow! Check it:
A video posted by MTV "Hiphophustlers" (@tylerroyale) on Oct 5, 2015 at 3:15pm PDT
She's pretty fab too:
Get it Marquise!
And it appears they've at least known each other over a year. Marquise posted the picture below around this time last year:
Not mad.
Take a peek at the episode that aired last night below:
True Life
A mother-son duo on the run…
"Rogue" actress mommy Thandie Newton and her adorable son Booker were spotted strolling through LAX yesterday. Booker is the absolute cutest!
The fab mom, who's currently filming a new TV series "Westworld," seemed to be in happy spirits as she pushed her sleepy baby boy through the airport. Wonder where they're off to…
Photo credit @nitelifelink/Tyler's IG/Marquise's IG/INF